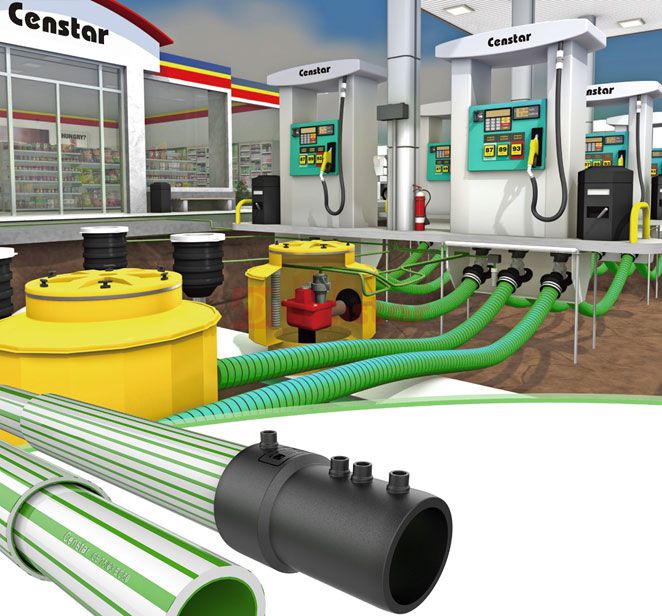 Censtar Series Underground Oil Conveying System
An investment with security and future guaranteed
Passing major certifications;Timely delivery
High impermeability;Trustworthy supplier;Easy to install
Provide professional installation training
Provide professional technical support and quick response
We're here to help Get Price:
Easy ways to get the answers you need.Send Email [email protected]
Description
Censtar double-layer pipeline consists of a main pipeline and an outer pipeline, both of which are manufactured using the same process. The inner main pipeline and the outer pipeline, connected with a dedicated electric hot-melt plastic pipe fitting, form an interlayer space along the entire pipeline, and the space is closed with dedicated electric hot-melt plastic pipe fittings at both ends of the pipeline. The leakage of the whole system can be monitored using a leakage monitor. The double-layer oil pipeline can not only transport liquid fuels and monitor the leakage of the entire conveying system online, but also provide safer measures to prevent the environment from being contaminated by fuels.
Censtar double-layer composite pipeline, suitable for negative-pressure and positive-pressure oil pipelines.
Parameter
| | |
| --- | --- |
| Pipe diameter | 2" |
| Working pressure | 75PSI |
| Min. vacuum degree (negative pressure) | 29"=736mm Hg |
| Working temperature | -40℃~+65℃ |
| Max. fluid working temperature | 52℃ |
| Min. bending radius | 36"(900mm) |
| Applicable fuels | Gasoline, diesel, alcohol fuel, methanol fuel, kerosene, aviation gasoline, ethanol fuel, engine oil |